As we all return to university and school, we also return to a lot of late nights and early mornings. While, I usually don't care whether I appear as if I have just woken up, if we have meetings, interviews or we just want to make a positive impression on people sometimes it helps to use small, simple little tricks that make you look more awake. Hence, this post is based on what I use to make my eyes look bigger and just generally appear more awake. I found a great video by EmmasRectangle, a new YouTuber I stumbled across, and this has plenty of great little tips and tricks as well as a step by step tutorial that talks you through each stage. Zooey Deschanel for me is the perfect insipration for big pretty wide eyes, so carry on reading to find out some of her favourite products.
Tips
001. If required use a paint pot or concealer all over the eye lid to create a clear blank canvas for any shadow you want to put on top.
002. Use a light shadow all over the lid, Emma uses All That Glitters by MAC, but you can use any light shade, with or without shimmer. I think a champagne shade looks really lovely with any skin tone or eye colour.
003. An important step is to highlight the inner corner of your eyes, simply use the lightest shade in any palette you own, like Vanilla or Nylon by Mac. Ensure that it is lighter than the shade on your lid so it really opens up your eye. Highlight the skin directly beneath your brow bone to as this lifts the whole eye area.
004. Also apply the highlight shade gently over the centre of the lid so it catches the light.
005. This isn't a step I personally practice but it's commonly known that a flesh coloured pencil used on the water line is an awesome way of making your eyes look bigger and rounder. Rimmel's Scandal Eyes Nude Eyeliner is very popular and only £3.99.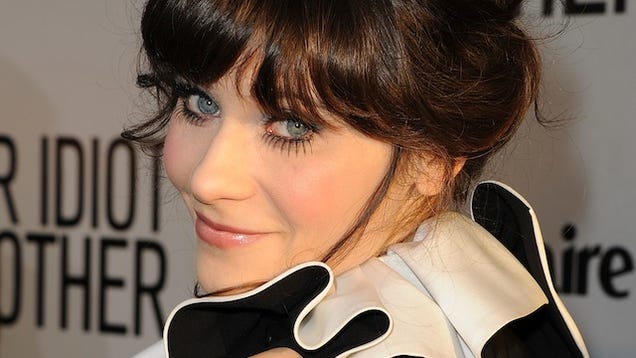 006. The most important step is the eyelashes, even if the only previous step you did is apply concealer or a nude base over your eye lids, long curly lashes always make your eyes look bigger. So curl your lashes well and use a good mascara that lengthens and volumises your lashes. You can use two mascaras together if that gives you your desired look. I use Primark curlers and Maybelline's Big Eyes mascara. Focus the majority of the mascara at the centre of both the top and bottom lashes. You can tell Zooey uses heaps of mascara on all of her lashes to achieve that wide eyed look as well as a pair of falsies to amp up the drama.
Other steps you can take to make your eyes look brighter and your face more awake is using a radiant, light infusing foundation.
Nars Sheer Glow
or
Rimmel Wake Me Up
are both fantastic foundations that immediately make you look healthy, glowing and alert.
Concealing
and brightening underneath your eyes is an imperative step if you have any dark circles or discolouration.
Thank you so much for reading and I hope you learnt something new in this post or at least liked the makeup tutorials I included. Leave a comment telling me what your favourite lipstick is, mine is
Chanel's Scenario in 83
and another favourite of mine is Nars in
Dolce Vita
. Love, love, love. Thank you again, all my social media is alittlekiran so if you want to find me on Twitter, Instagram, Pinterest or Tumblr you know what to search. I am currently doing the 100 Happy Days tag if you are interested, I may do a post on it soon. Lots of love and stay safe.
Kiran xxx