Barry M is one of my all-time favourite nail polish brands, their Gelly Nail Paints are a great product. They have a decent range of colours, a beautiful shiny finish and they don't break the bank. Everything I look for in a nail polish I can find in a Barry M Gelly Nail Paint. So I was curious when they came out with some choice autumnal shades with interesting names that piqued my interest. Read on for photos and a break down of whether they are worth your pennies or not.
Above are four out of five of the whole collection. From the left there is: Cardomom, Chilli, Mustard and Paprika. The one nail paint missing is Chai, it is a grey shade and I am positive it is of similar quality, I already own a lot of grey polishes hence the reason I didn't purchase this one. Also, I'm a little confused as to why it's called Chai, but you can see it for yourself below.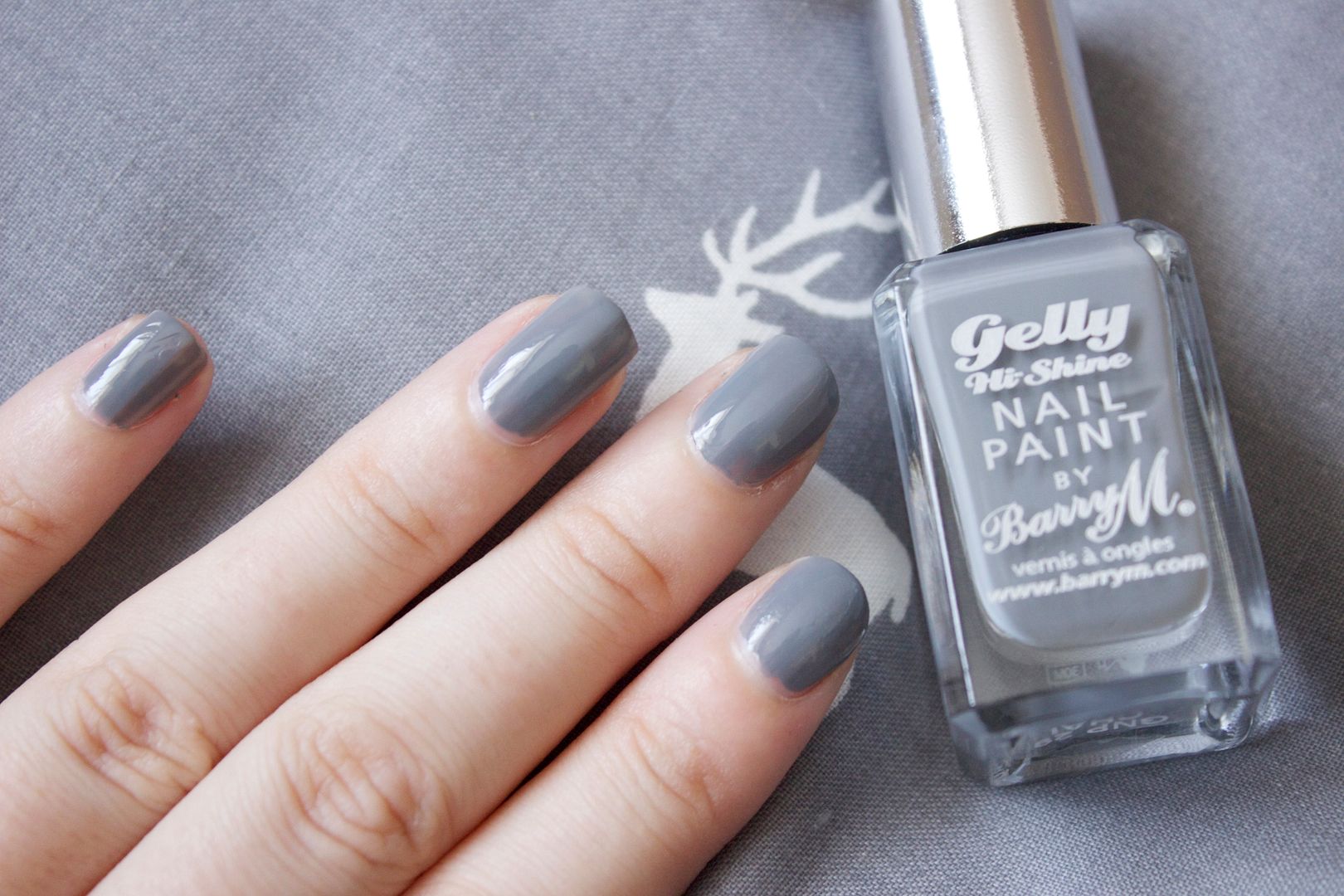 Cardomom is the colour I have on my nails right now and I really love it. It's a very interesting shade of green, almost like a leaf green, which makes it feel very autumnal. I also love Cardomom tea (from Tea India) and drinking that while having matching nails makes me very, absurdly happy.
Mustard is a vibrant yellowish shade, like mustard basically. I am not sure how I feel about this colour, yellow generally is a difficult colour to wear. I don't believe it particularly pairs well with my skin tone, I think it clashes. It would look wonderful with perhaps lightly tanned skins or darker deeper skin tones that mine, I think it would definitely pop very nicely against those skin tones.
No autumn nail collection is complete without a classic red. Red, fortunately never goes out of style. As we shift into those colder months we see deeper reds taking the place of blood red, cherry hues. Chilli isn't a burgundy colour by any means but it is a very wearable redd that would suit all skin tones. It is dark enough to hint of winter without detracting from the redness, a fine balance.
Paprika is an interesting colour, a deep spicy orange that makes me think of Indian spices which is clearly what this collection is inspired by. I think this is a very flattering colour, again it reminds me of turning leaves and is my second favourite after Cardamom.
The last one is Cappucino, this isn't from the Indian collection but a chocolate shade is mandatory in any autumn/fall collection. It is not a Gelly Paint either which upsets me, I really don't know why Barry M bother adding to any of their other ranges, their Gelly Paints clearly eclipse all the others. But is a warm purple-brown that makes a change from all the black you tend to see this time of year as people get completely over summer and all the bright splashes of colour in their wardrobe. This colour makes me think of the inside of smarties, I don't know why. It's quite light and unique, I'd put on an extra cost of this for longer staying power.
Thank you for reading, as always if you made it this far, please follow my blog and leave a comment telling me your favourite nail polish brand and what colour you'll be rocking this season. Have a wonderful week and I'll see you very soon. All my social media links are alittlekiran, so tweet or Instagram me for a follow back.
Kiran xx