A cheeky post listing all the things I desperately covet but can never truly justify buying, surely we must all be able to identify with this? Just a disclaimer that I am not hankering for these gifts, even though they are all several shades of gorgeous and I would dearly love to possess them I enjoy getting unexpected gifts more than anything, it is a lot more personal and thoughtful that way and of course I am grateful for whatever I receive. As much as I gaze longingly at expensive things, little things like a Galaxy McFlurry (finally this is the one I have been waiting for!) can make me happy beyond words. With all that said, here are a few things I am lusting after that may help you out with some gift ideas if you are struggling to find something to buy for your mother, sister, friend etc.
The most gorgeous brush set, it just looks exquisite. A lot of beauty gurus rave about this brand of brushes from Zoella to Pixiwoo to some of my own makeup artist friends. It is impossible to go wrong with this set, the packaging and quality are both perfect. Plus it comes with a divine little bag.
The Saint range is my favourite, it provides only 10% pigmentation which doesn't sound like very much at all and that is perfect for me. Lipstick is always something I struggle with and although I constantly admire others that can rock a bold lip and look badass doing it, I just can't. So this is a fail safe way of trying out a lo of different shades without it being overwhelming, it is impossible to pick a bad colour within this range. Plus, the lipsticks are very moisturising and comfortable to wear, they feel like a balm. I will be doing more posts about this brand very soon.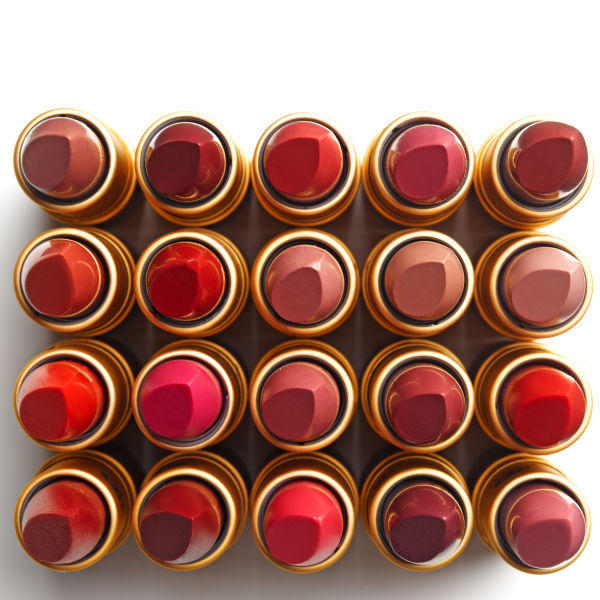 All the Charlotte Tilbury quads are exquisite, but Dolce Vita is the fairest of them all. It contains four fall-appropriate colours and what has to be the prettiest gold eyeshadow I have ever seen. It is expensive and perfect, there is no doubting the quality of this product, the shadows are pigmented and easy to blend and the packaging is divine. It would make a lovely gift to open, plus on the Charlotte Tilbury website you can get any product gift wrapped for an extra £1.25. Keep an eye out for a tutorial using this palette!
This sensuous threesome features three of my favourite, universal K.I.S.S.I.N.G shades - the dreamy Penelope Pink, pretty pink Bitch Perfect and iconic So Marilyn red.
The seductively pretty and expensively gold packaging make these lipsticks a stand out in any makeup collection, ultimately lovable. My coveted shades are Chocolate In Style and Rose In Tension and of course because nude lips are a must Nude in Private. Perfect to open as well as a great quality lipstick, long-lasting with a glossy finish to get your lips looking as luscious as possible for that special mistletoe kiss.
This beautiful cream product comes in six lovely shimmering hues: Crystal, Pearl, Pink Opal, Copper and Onyx. They are very blendable, highly pigmented and scintillating. Ideal for party season, shimmery eyes that light up the night will lift any makeup look. My favourite shade is Copper, gorgeous when used generously all over the lid or with the tiniest amount dabbed onto the centre of the lid. All these eyeshadows catch the light in the prettiest way.
I saw this on Samatha Chapman's Instagram (pixiwoo) and thought it looked really cool. Of course as it is from TopShop it is a little out of my price range and how many Christmas jumpers does one need anyway? But it is adorable and grey, I think everyone seems to be a little obsessed with grey lately.
This is a lovely soft wool scarf you get it in both red and plum, I didn't warm to the red option at all, but the plum is a truly lovely shade that reminds me of aubergines it looks great with all the fall colours like burgundy, navy, brown, green and black.
A little something for the book loves out there, it seems like every YouTuber is pulling a book out of their bottom but if you have to read any I would pick this one. Michelle Phan is a YouTube sensation and I think her videos, especially her tutorials knock all others out of the park. It is quite clear that the amount of effort she puts into anything is unparalleled she is on a completely different level. All he videos are helpful, fun and positive. As soon as you click on any of her videos you always finish it feeling happier or motivated and just better about life, she is such an uplifting happy person that is open about her own flaws and shortcomings. Her book is about everything from business, makeup, beauty, fashion and lifestyle. I think she is honestly a human everyone can learn something from.
Thank you for reading, I hope you liked my quick little gift guide. If you would like to see another more in-depth gift guide suitable for a lot of different people just let me know in the comments and I'll start typing away. Follow if you like my blog, I can't stress how important it is to me that my readers click that follow button, you can search for me on bloglovin also, and comment any future posts you would like to see and tell me what you would like for Christmas. Have a great week and I will see you again very soon.