Apologies for the length of absence, but I thought I would return with the hot topic of the moment: The Golden Globes and give you a quick fashion breakdown. So carry on reading for the best dressed of the lot, the worst (in my opinion) and who I think is the best dressed of all time. Thank you for your patience and of course don't forget to follow and check out my social media accounts, which you can find all on the right.
Firstly have a look at this stunning drawing by @sarokey (you can find her on Instagram) depicting her favourite looks. She features Kate Hudson in a Versace gown, Alison Williams in Armani, Amy Adams in Versace, Lupita Nyong'o in Giambattista Valli and Emma Stone in Lanvin. She is amazingly talented.
Alison Williams (from Girls Season 4) in a shimmering elegant red strapless gown simply dazzles, I love the smoky eyes which brings attention to her face and the relaxed soft asymmetric curls.
Lupita Nyong'o in Giambattista Valli looks incredible, she wears vibrant colours so well, I don't think I have ever seen purple look quite so good on anyone. Stunning, and one of my favourites.
Sienna Miller in a stunning Mui Mui dress and Jimmy Choo heels, her dress is possibly my favourite. The detail is just exquisite.
Emma Stone in a Lanvin jumpsuit, I love that the belt leaves a trail behind more, it adds some extra femininity and I think Emma Stone is pretty flawless generally.
Dakota Johnson (soon to be the lead in the Fifty Shades movie) looks awesome in a metallic Chanel dress with a wide split and Jimmy Choo heels similar to Sienna Miller's.
Julie Goldani Telles looks stunning in this blue gown, the colour perfectly contrasts with her dark hair and pale skin, not forgetting those deep red lips. She looks like Snow White, so pretty.
Eddie Redmayne in a Gucci suit, he is so beautiful.
Salma Hayek in a strapless Alexander McQueen dress that really accentuates her figure, she looks like a beautiful modern bride.
Kate Beckinsale looking splendid in Elie Saab, she looks very chic with her hair in a big bun, soft makeup, chandelier earrings and a beautifully ornate dress. A timeless look, I especially love the dark nails against the pale dress.
Selena Gomez always looks like a princess, and this gorgeous figure-hugging white dress makes her look as lovely as ever. She looks like a radiant angel. Her dress is by KaufmanFranco and is saved from being boring by the cutouts and cleavage.
WORST DRESSED AWARD: LANA DEL REY
This gown doesn't suit her at all, in my opinion. I love Lana and I think she is a naturally sexy, beautiful enigmatic woman who could make a binbag look good. But this dress just looks frumpy and the colour washes her out slightly.
BEST DRESSED EVER
For me, it had to be Olivia Wilde at 2011 Golden Globes, It is the most stunning dress and she looked so happy to be in it. I loved that she had her hair down, even though classically hair tends to be swept up with strapless styles, but I really like the overall look. It's undeniably glamorous but not overpowering, almost an ombre effect and I love the gold dispersing to grey not your obvious combination but visually perfect. Gorgeous look!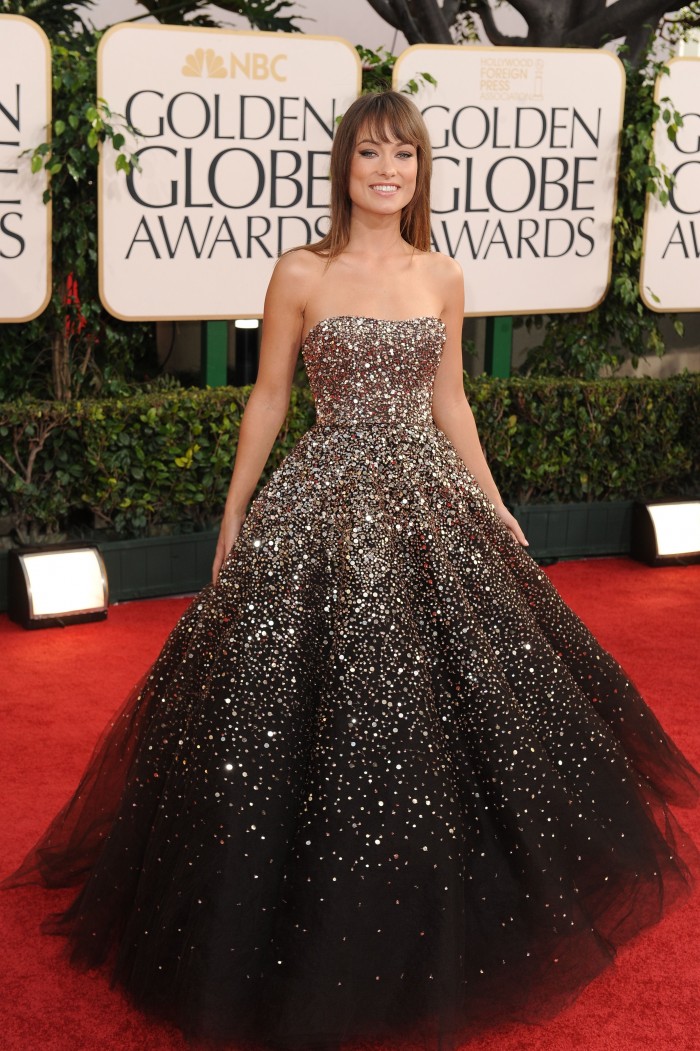 Thank you so much for reading, if you made it this far please leave a comment telling me your favourite look from this year's Golden Globes or any in fact, I would love to hear about what you likes and didn't. Of course, don't forget to follow my blog and like my page on Facebook, that would be amazing and I will see you very soon!