The new Cinderella movie is going to be released soon and to celebrate MAC are launching a Cinderella inspired collection. Yes, this is what dreams are made of, and every product is as shimmery and pretty and feminine as you would hope. I am already obsessed with the stunning periwinkle packaging, it's stunning. There is a link at the end of this post that will show you swatches for some of these products.
Keep reading for more information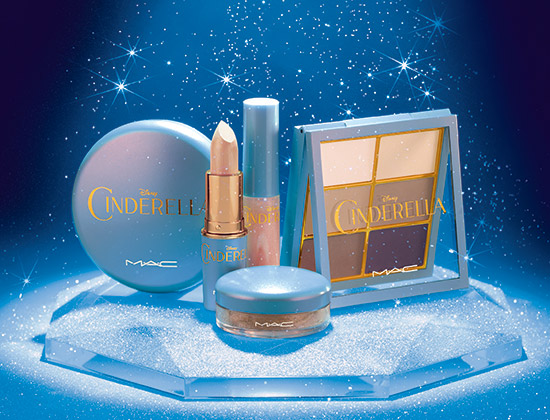 There are two face products (highlighters), two lipstick and two lipglosses and a bunch of different eye products. There is a palette containing six eyeshadows, two loose pigments, two gel eyeliners, two eye glosses and a mascara. In addition to this, they are releasing a Cinderella version of the 217 Eye Blending Brush and their Angled Contour brush, but if you already have brushes that do the trick then save your money. I broke up the collection into face, eyes and lips.


FACE
Mystery Princess Beauty Powder ($28) - silvery pinkish beige highlighter
Coupe D'Chic Pressed Powder ($28) - golden peach highlighter
LIPS
Happily Ever After Lipglass
(
$16.50)
- shimmery pink lipgloss
Glass Slipper Lipglass (
$16.50) -
champagne pink lipgloss
Lipstick in Free as a Butterfly ($17.50) - a sheer golden nude lipstick
Lipstick in Royal Ball (
$17.50)
- nudish pink lipstick
EYES
A Stroke of Midnight Eyeshadow Palette ($44) -
Shades include
Vapour,
a light peachy-pink;
Phloof!,
a frosty off-white;
Omega,
a beige-taupe;
Quarry,
a plum-brown;
Satin Taupe,
a silvery taupe, and
Stroke of Midnight,
a black sparkly plum.
Eye Gloss in Lightly Tauped ($23) - sheer, shimmery, beige eye gloss.
Eye Gloss in Pearl Varnish ($23) - shimmery white sheer eye gloss.
Fluidline in Little Black Bow (
$17.50)
- a silvey grey cream eyeliner.
Fluidline in Macroviolet (
$17.50)
- smoky violet eyeliner
Glitter in Reflects Pearl ($23) - loose white glitter
Pigment in Evil Stepmother ($24) - loose dark plum sparkly pigment
Pigment in Pretty It Up ($24) - olive coloured loose shimmery pigment
Studio Fix Lash in Bold Black ($19) - mascara with quite a defined wand, looks like it would be suitable for separating lashes for full flutter effect.
There are also the two brushes, the 217 blending brush ($24) and the 168 angled contour brush ($35)
For some swatches and real life pics click HERE.
Thank you for reading, I hope you liked this post, I cannot wait to get my hands on any of this line, hopefully it won't be sold out. Let me know in the comments what you would like to see in my next post. All my links are to the right, have a lovely weekend wherever you are.