No doubt about it, cleaning your makeup brushes can be quite a chore. I rarely do it as I have never seen the need for it, additionally it seems like a lot of hassle and quite high maintenance. With the amount of money you pay for brushes you kind of wish they cleaned themselves. However, on a whim I decided to wash all my most-loved brushes while waiting for my hair to dry before going to sleep. I was shocked.
Image by Lauren Curtis
Not only was it alarmingly easy and hassle-free, but it didn't require any fancy products or procedure. It was simple and quick, taking less than fifteen minutes to wash all of them. Before I get into that, I wanted to share with you why you should wash your brushes, because despite your personal preferences it is important.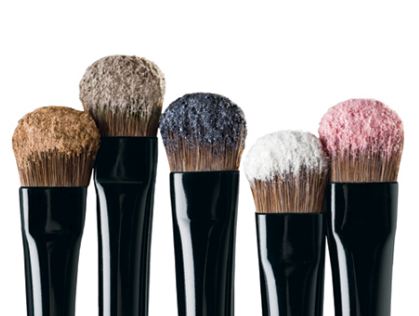 ___ ___ ___ ___ ___ ___ ___ ___ ___ ___ ___ ___ ___ ___ ___ ___ ___ ___ ___ ___ ___ ___ ___
1. Using dirty brushes on your clean face can cause breakouts. All that product build-up can clog your skin, not to mention the oil and dead skin that will cling to it. For this reason, I recommend you wash your foundation/concealer brushes most regularly, because rarely we skip applying our base. And day after day of using the same dirty brush can take a toll on the appearance and health of your skin.
2. Simply put, it's unhygienic. Even though you are most likely the only person that uses your brushes, you still have germs and bacteria, oil and dust and dead skin cells and they will all fester in your lovely brushes.
Image from fairygodmotherbeautyblog
3. The quality of your makeup will decline, it won't matter if you're using YSL eyeshadows if your crease brush is dirty, the pigmentation will be noticably less so you'll end up using more product. If you want your makeup to look nice and clean and you want to get the most use of your products, washing regularly will definitely boost your confidence and your bank balance. Guaranteed.
4. Your makeup brushes will last longer and they'll look a lot prettier on your dressing table.
___ ___ ___ ___ ___ ___ ___ ___ ___ ___ ___ ___ ___ ___ ___ ___ ___ ___ ___ ___ ___ ___ ___
With that out of the way, the quickest simplest way to wash your brushes is with baby shampoo and that is all you need! I got a bottle of Johnson's baby shampoo from Poundland. Just £1, guys. I was very skeptical that I would see results with baby shampoo but I did.
All you need is your shampoo, a towel and a sink. Squirt some shampoo into your hand, run the hot tap, wet the tip of your brush and then rub it into the shampoo in your hand. Keep alternating between holding the brush under the tap and rubbing it into the shampoo. You'll instantly see all the product wash away, just keep rubbing until the water runs clean. This works for all brushes: eyes, face, fancy, affordable.
Above is what my brushes looked like prior to cleaning, they were very dirty. I don't think I have ever washed my brushes properly before. The most I have ever done is try and wipe off a lot of product with makeup wipes. If you want something super quick to give your brushes a spruce up then makeup wipes are a good way to go.
The photos above and below are of my brushes post-wash and they turned out great, they looked brand spanking new. I was honestly so happy, I felt like I had my life together. I used only about two fingers worth of the shampoo, I think it will last at least ten-twelve more washes.
To dry I put my towel onto my radiator and rested them on the top. I did this overnight, the heating was on for about an hour that night and they were completely dry when I checked them about three hours after washing. They dried incredibly quickly. I used them for my makeup to go to the Psychology Ball the next day and I noticed such a difference, definitely a smoother, less heavy application. The colour payoff with my eyeshadows increased dramatically. Thank you for reading, every single one of you mean so much to me so thank you for taking the time. I hope you enjoyed this post, please don't forget to follow and check out my social media if you fancy. Like my Facebook age and all that jazz. Take care.