September is basically over. Soon it will be Christmas. Life is passing me by. Okay, mild depression aside I have found a few products that are just doing it for me right now. I don't want to go into too much detail because I plan to do more detailed reviews on some of these products so you can have a better understanding of what they are good for, and whether they are suitable for you. All links are in bold.


So I included a photo of the gorgeous Jaclyn Hill because I have been obsessed with her tutorials, and her hair, lately. I also watched her Fall Favourites Tag and did my own (click
HERE
). She is just the most autumnal-looking person ever and I mean that in the best way, you can watch one of her fall tutorials by pressing play below. This is the tutorial for the photo above, enjoy.
And on to actual products, everything is linked with prices for your convenience . . .
I have been using this mask for a few weeks now and really enjoying it, you don't need much and it warms up as soon as it touches the skin. A great mask, and you can read the full review
HERE
.
Obsessed with this palette, it's the most exciting neutral palette I have ever owned; I think the quality of the shadows are insane, I love it more than my Lorac Pro palette, so you know I mean business. I managed to get it for £16 at TK Maxx so it is worth shopping around.


I have been loving my neutrals this month because it makes getting dressed so simple. I have been on a weird schedule lately and need to keep my shit together which is surprisingly hard when the weather changes its mind every minute. This warm purple toned colour is brilliant, Purple is my favourite colour and this nail paint screams Autumn to me. I have come around to the idea of matte nails, but I do prefer gel finishes so if you know of a similar colour that has a glossy finish please let me know in the comments as you will make my life.


I haven't been wearing blush at all recently but after dipping my brush back into this palette I fell deeply in love. Such a gorgeous palette, the blushes are all really pigmented and flattering. Honestly the only blushes you will ever need. I am thinking of doing a Makeup Kit post, so if you would be interested in that let me know in the comments.
.
Another new item, I haven't worn this mascara that often even though the effect is mesmerising. It has an instant impact on your lashes, you don't need to curl them (but I do anyway) and it lifts, curls, separates and volumises like nothing else. An all-in-one mascara, tough to remove but that does mean it stays put and doesn't flake whatsoever. Again, I got this for £8 at TK Maxx.


The scent is dreamy. I wish I could turn it into a bath bomb and bathe in it. This is the orange soap, which I couldn't find online, so the link above is to the Verbena Soap which is equally awesome but with a slightly stronger scent.


Nars Bronzing Powder in Casino
- £27.50
One of the only products I have managed to hit pan on. Lately, I have been too lazy to properly contour and running this quickly around the perimeter of my face adds some much needed dimension and takes only seconds. One of my all-time favourite products.
BAKING
Love using this makeup technique, I have been working long shifts and this really sets my makeup in areas that tend to crease giving it some lasting power. I get so many compliments on my makeup when I use this technique, and that's how you know it really works. I know a lot of bloggers rave about the Laura Mercier Secret Brightening Powder, but, trust me, any loose powder will do a great job. I'll be doing a more in-depth post about this technique as well, because, I don't just like it, I love it.
Grand Central Station
Checked out the revamped New Street Station and was thoroughly impressed. All the shoppers had pressed pause on their spree to chill with champagne like the fancy souls they are. It was really busy so I didn't enjoy it as much as I would if there was no one else around. There's a shop called Hema that sells everything you could possibly want or need and I plan on moving in there.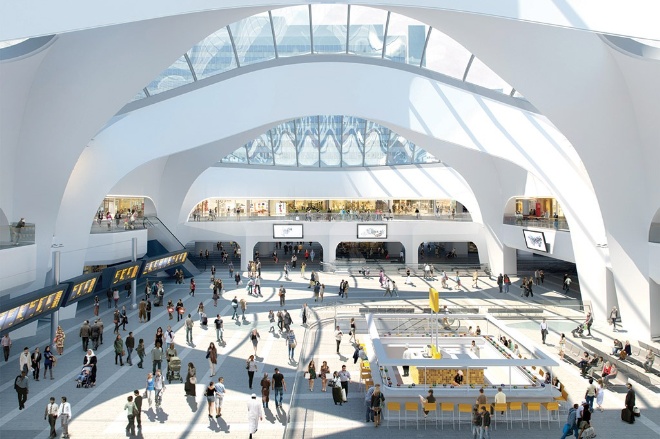 Thank you so much for reading, let me know what you'd like to see next and your favourite products from this month in the comments; I love reading them. I hope October is even better. Take care.
Love ♥
Kiran