Time for another tag post, the lovely Ash from
MsTantrum
tagged me to do 'The Beauty Lover Tag', and after reading
her post
, I thought I would share my answers with you before it's too late. My last tag was the AM/PM Routine Tag, be sure to read that if you want more details about my morning and evening beauty routines. Onto this tag, there are nine questions in total and just like the last one I want to encourage all of you guys to do this post too and leave your answers or links in the comments section below so I can read them.
If you could have anyone in the world do your makeup who would it be?
This is such a tough question because I follow so many amazing makeup artists and YouTubers. It is so hard to pick just one, I think it would probably
Sam
and
Nic
from
Pixiwoo
, they were one of the first channels I subscribed to and they are brilliant. I love their work, their imagination, their attitude. I would want both of them to do my makeup together.
What is your top makeup tip?
My top tip is simply blending, as it can be applied to everything: foundation, contour, eyeshadow, even brows. Blending is the key to a seamless makeup application. It helps you avoid that heavy cakey makeup look and improves the longevity of your makeup. You can always tell when someone hasn't blended enough.


What one skincare item could you not live without?

What are you the worst at when it comes to applying makeup?
Ha! Easy, eyeliner. It's such a bitch, isn't it? I have to mentally prepare myself to do any kind of eyeliner, sometimes it can take thirty seconds and other times it can take thirty minutes. It will never be as good as this though, *sighs heavily*.



What is your biggest pet peeve about makeup?
Scouse brow. I know strong brows are a trend that has been going strong for a while now, but I dislike brows that don't look like brows. You can do your makeup however you please, of course, but if someone has really bad brows I just can't stop looking at them. It's terrible I know, but this goes for heavily drawn on brows, or brows that have been filled in with a colour that doesn't match etc. Another big peeve of mine is when the foundation isn't blended down the neck; it just looks terrible.


What's your favourite makeup era?
Truthfully, all eras are my favourite but because I like neutrals and softer matte looks the 90s would have to be my favourite and right now. I think currently makeup and beauty has blown up in such a massive way, people are really having fun with it and I love that. I love that there are so many guys out there slaying the makeup game just as good, if not better, than the girls in the industry. I also really like grunge 90s makeup looks, I don't tend to go for these looks on myself but they look amazing.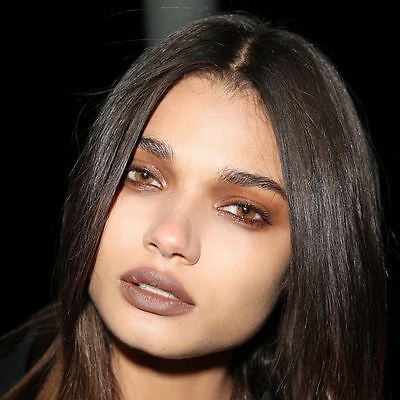 What is your guilty pleasure product?
I never feel guilty about buying makeup but probably the Limited Edition Oz palettes from Urban Decay. I love them both, and I purchased them on the day they were released in my first year at university and I used them religiously every day for three months. I cherish them dearly.



What is your underdog product?
The
L'Oreal Lumi Magique foundation
is such a gem yet I hardly hear anyone talk about it. It is marketed for dry skin tones, but works wonderfully on me too. It's just the perfect everyday foundation, as a student I wore this every single day and my tired, stressed out skin looked fab.

What is your favourite makeup product of 2015?
My beautiful Urban Decay x Gwen Stefani eyeshadow palette, I don't know what I would do without it. It's so beautiful. I also love the Bare Minerals Ready to Go Kit, it's ridiculously affordable and you get a foundation, powder, bronzer, illuminator, a cream concealer, plus two small brushes. All you need for your base, ideal for travelling. I love it, can't recommend either of these products enough.
Thank you so much for reading, I hope you enjoyed this tag. Please leave your links below if you do this tag as well, because I tag everyone who is reading this! If you don't want to write a full post answer your favourite question. Hope you are having a lovely week. Don't forget to follow. Take care.
What is your makeup pet peeve?